these 9 rituals are in high rotation here!
a client recently asked me if i would share with her the rituals we adhere to most in our home. i am always happy to give people an idea of what rituals connect our days, so here is a glimpse into the routines that have the steadiest rhythm in our home and lives.
 
i shared this post back in 2019 and most of it is remains the same. i don't light Palo Santo every morning still; instead, it has shifted into lighting a couple candles – and usually, i light these a only a few days a week. 
 
the other rituals i am pretty devoted to include:
 
ritual ONE: i wash our bedding weekly, usually on Sundays. it is a small but exquisite luxury for me to crawl into a freshly laundered bed – and because it makes me feel SO good, i don't mind it as a weekly task. however, if reading that just sent a shudder through you but you like the idea, find a consistency that works for you. 
 

ritual TWO: we prune / deadhead / remove anything struggling outside. truth talk: most of our yardwork is shui-keeping; a little of it, though, is motivated by worry that if someone pulls up and knows i am shui practitioner, they might say "tsk tsk" if our green chi isn't serving up A+ curb appeal. haha!
 

ritual THREE: i turn on the lamps throughout our home around here every morning (mostly because our house gets skimmed daylight – thanks to all the mature trees now in the neighborhood). that said, my daughters are "global citizens" trying to curb unnecessary climate stress, so it is not uncommon for those lamps to get turned off. (and here we arrive at the reality of a shui home – there is always compromise in the mix!)
 

ritual FOUR: fresh fruit and flowers are non-negotiables for me on the weekly. i keep flowers in the living room first and foremost. i also LOVE keeping a bundle in the Wealth area of my desk; and i usually have an arrangement in the kitchen (an area that also stimulates Wealth chi).
 

ritual FIVE: having our windows cleaned twice a year is a big deal to me. my parents just had all their windows replaced and my mom mentioned how much brighter and clearer everything seems in the house. it's no surprise – clean windows make a mighty difference in how clearly we "see" things and they improve our outlook on life!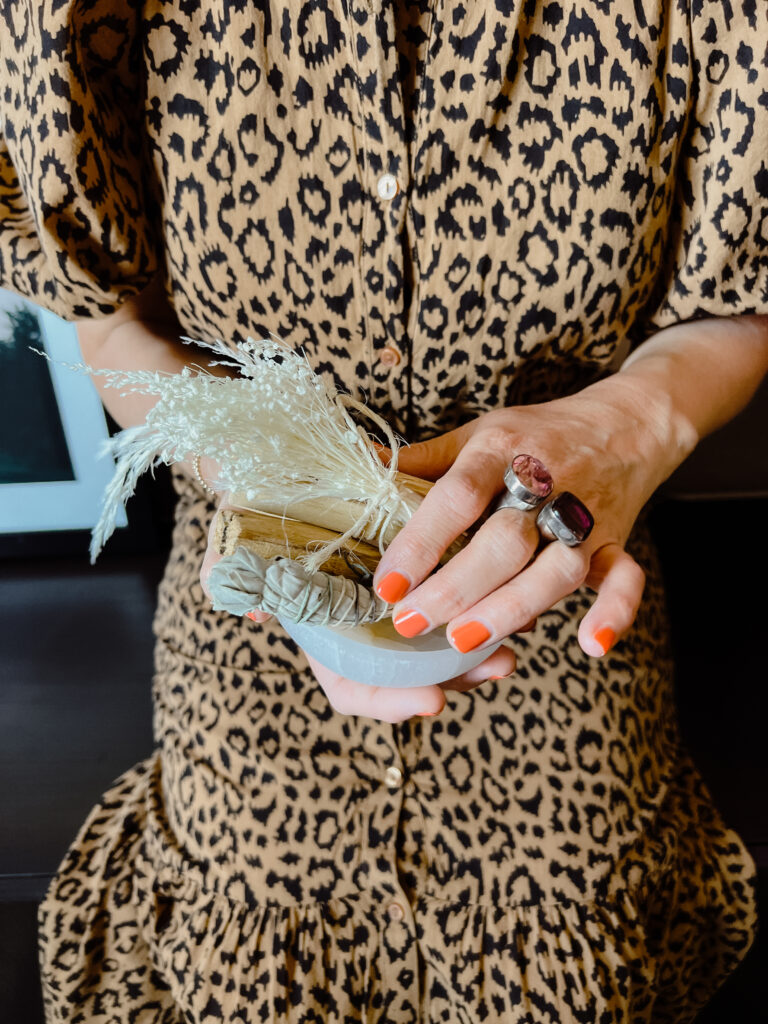 ritual SIX: if the house or my life feels stale, i will move 27 things around. i am not immune to an impromptu purge either, so if the mood strikes, it becomes a "release 27 things" edit instead!
 

ritual SEVEN: i like to "spruce" our home's energy up with essential oils, although i am just as happy to work with the plants themselves. so…
 
when i want to give our money matters a boost, i will clean the floors with a basil wash. we have a LOT of floor space, so this isn't something i do often – maybe quarterly (and even that sounds ambitious – haha!). however, when money is on my mind, our floors sparkle!
i will wipe down / spritz our office with orange or grapefruit oil, especially when we've got that furrowed brow / "work is serious" look to us. citrus delivers immediate mood makeovers and creative highs, so it's always within reach.
i will dab cinnamon oil in the corners of our office and bedroom when i want / need an overall zhuzh.

ritual EIGHT: i sweep the front door / porch area once a week-ish; and i sweep our back porch when the lawn crew forgets to leaf blow it +/or it looks "littered" with leaves, pollen, etc.


ritual NINE: i get out for walks when possible – which, sometimes, is every day. with summer now bringing the heat, it will be far less. this is a simple way to bring fresh chi into the house – if i am out soaking it up / taking in all the fresh air, i bring it home with me and deposit that into the space. and that's a TOTAL win-win! a little exercise for me; a little "exorcise" for the house.

most importantly…

i am not doing all of these all the time. like everyone, i am juggling the busyness that is life, right? instead, i find satisfaction in the instinctual ebb and flow to it, knowing that these have a way of putting me right back where i feel (and thrive!) best – and that keeps me coming back for more! xo