'tis the season of packages tied up with string, right? and because i LOVE sharing all my favorite spaces and places that make me merry, how about a few *simple shui approved* suggestions i know will feel good giving?

when it comes to gifting with peace of mind and plenty of purpose, keep yours in one of these sweet spots – Expendables, Edibles, Education, Experience and Entertainment – and your gift is forever safe from becoming forgotten, recycled, or banished to the clutter pile!

and now, true loves, let the gifting WOW-ZA begin…

1 / her just breathe Eucalyptus Shower bundle is EVERYTHING – imagine receiving a box of fresh blooms and then keeping them in the shower where you can see / smell / experience them every day. that's this gift!

that said, Heritage Apothecary is easily one of my favorite new finds in 2021, and i just stocked up on these Palo Santo wood + rose incense sticks. 2022 is coming up roses for me, and this is just the start!


2 / do you have someone in your life who LOVES a good smoke clearing? i say give them the gift of oomph – a bundle of raw selenite wands. any time we cleanse and refresh energy, it's a good idea to put something protective and positive in its wake – and Selenite wands are potent and perfect for the job! i keep one in each of the four "straight" guas of our home (Career, Family, Fame and Children / Creativity). however, any room / windowsill / spot is a perfect haven and home for these. BONUS: they don't need to be charged! and my favorite resource is the beautiful human behind Smudged, Neelou! you'll stop by for the selenite, but i've gotta feeling you'll scroll all her devotional pretties! 

3 / i've been a fangirl of Anna Ryan Drew's since for-like-ever, and i am always getting asked about the one-of-a-kind clothing and earrings i wear from her line. so, if you want to deck the closet fabulous for a loved one (or yourself), let me lead the way to her earrings and the enviable rack!
4 / if you have a hostess with the most-est in your life, look no further – Estelle Colored Glass has you covered! after splurging on this set, there is no competition left. i want every color of every stemware available, and that is that! can you even imagine a more delightful surprise than one that suggests celebration with a side of glam? gift these blushing coupe glasses with a little note that says, "too much of anything is bad, but too much champagne is just right!" and you'll forever be the bee's knees!  
5 / i was invited this year to help launch Aromatherapy Associates' Atomiser – and lucky me, i was gifted the diffuser and a selection of oils. it was only a matter of minutes before i was asking about all things available in their Deep Relax blend– an exquisite concoction of Vetiver, Chamomile and Sandalwood. it's 'zee perfect gift for someone who LOVES (or needs) their Zzzzz's!
 6 / if your loved one LOVES wearing pretty baubles, i think their house needs a little sparkle and shine, too – enter: Fierce Forward's crystal suncatchers!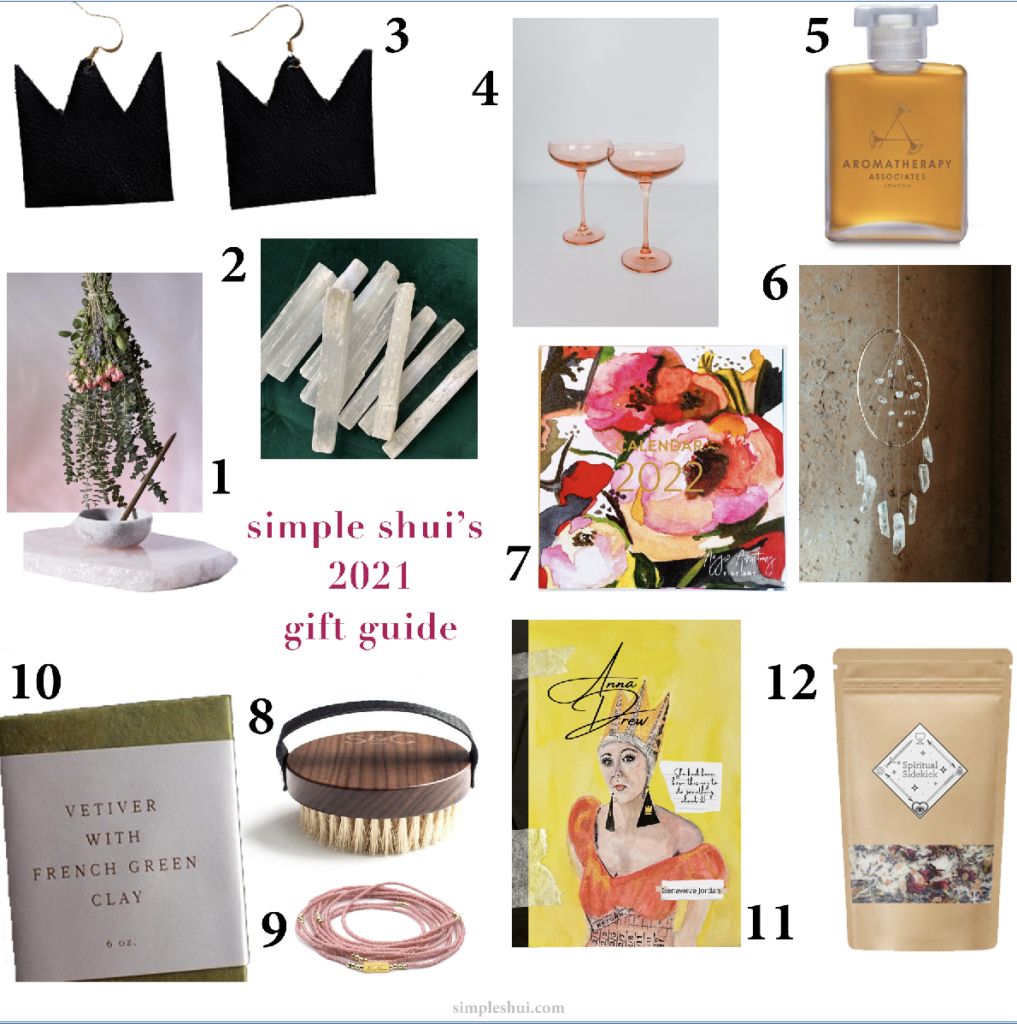 7 / i feel spoiled by the muses because they keep crossing my path with artists that i quickly fall head over heels in LOVE with – and Aggie Armstrong is one of those creative geniuses. we collaborated earlier this year, and her little painting of my book still pulls so much JOY right to the surface for me! oh, and i have a couple of originals in my office now that give me LOVE SQUEEEs every time i see them!
so, without a doubt, her 2022 calendar is a must for the boss lady on your list! the colors and vibrancy each month are guaranteed to jostle loose a couple smiles every single day!
8 / you know i am a fan of sweeping, right? turns out, a good body sweep is worth the same hype! i've always LOVED the idea of dry brushing, but i could never find a brush / bristles that felt like they were made for the job until… i found this one! and now, the ritual of it is honestly sticking because i LOVE the feel, the shape and the ease of Stass and Co's body brush so much! trust me, your *my body is a temple* peeps will thank you!
9 / INTENTION is everything – in fact, there are so many moments in a day where forgetting to plug in our intention is a missed opportunity. so, i am truly obsessed over these intention wraps from MaeMarie – and was just telling someone, "i am tempering myself, but i very well could end up with a whole arm sleeve before the year is up!"
it's this simple: decide the energy you want to align with (for the new year, a BIG project, or for the *weather*you're currently in) and choose a wrap that is a good match. and then, wrap the pretty around your wrist and carry that intention and message with you everywhere you go! (i am currently wearing 'passion' and the gold 'passion double wrap' – my intention: 'fire in the belly,' baby!) how's that for a gift that keeps on giving 3-6-5?


10 / if you've ever had a conversation with me about my favorite scents, you know Vetiver is forever my girl. maybe it's the smell of lush earthiness for me. perhaps it's the calming clarity a whiff can deliver. whatever it is, if TLC had a scent, Vetiver is it! so when i can access all of that in a single bar of soap, there is no pause in the purchase! this one is hella simple but fabulously indulgent for anyone on your list!

i LOVE Saipua's entire shop collection, and i can also tell you the Rose + Geranium oil is what dreams are made of and those lavender shortbread cookies are usually gone in a matter of days.


11 / another mind-blowing creative i was lucky enough to spend time with this year is Genevieve Jordan– if you don't know her yet, remember you heard about her here first! i watched this book– Anna Drew (yes, about the artist i just mentioned – it's a small world!) – come to life, and i can't stop inhaling the words and paintings. even better? this gift is a buy-one-for-a-friend, buy-one-for-you book – trust me, you'll want one for your shelves, too!

while you're over on her site, i HIGHLY recommend checking out her healing dolls. they are MAGIC and the ultimate LOVE YOURSELF gift! 


12 / i fancy a good soak, and i LOVE a salty one best – and this Spiritual Sidekick bath is ritual extravagance! with a generous scoop of this blend from Eye Love Love at bath time, you're slipping into lavender, rose, sage, Epsom salt, dead sea salt and Himalayan salt… does it get better? no, friends, it does not. (look at that photo up top, and THAT'S what we're talking about!)

and if you want to go for an extra dollop of decadence, treat your gift list to this beautiful bundle.


so, tell me, sugar plums, what are you gifting for them (and what are you thinking about for YOU?)?