i am a ban.do devotee. i LOVE their agendas – every single one has mapped my forecast, fortressed my dreams, and retired as a snapshot of everything that happened in my life that year. naturally, i turned my lovelies onto them, too. which is why you'll understand how it felt like kismet when – in our different corners on an ordinary day – we all noticed the last weekly inspo in our 2018 planners:
GIVE YOUR PLACE A FENG SHUI MAKEOVER.
it was a sign sewn with sequins, and i happen to adore both veryvery much!
so, dear ban.do, i am sharing the shui behind 11 of your wildly inspiring and winning 2018 prompts!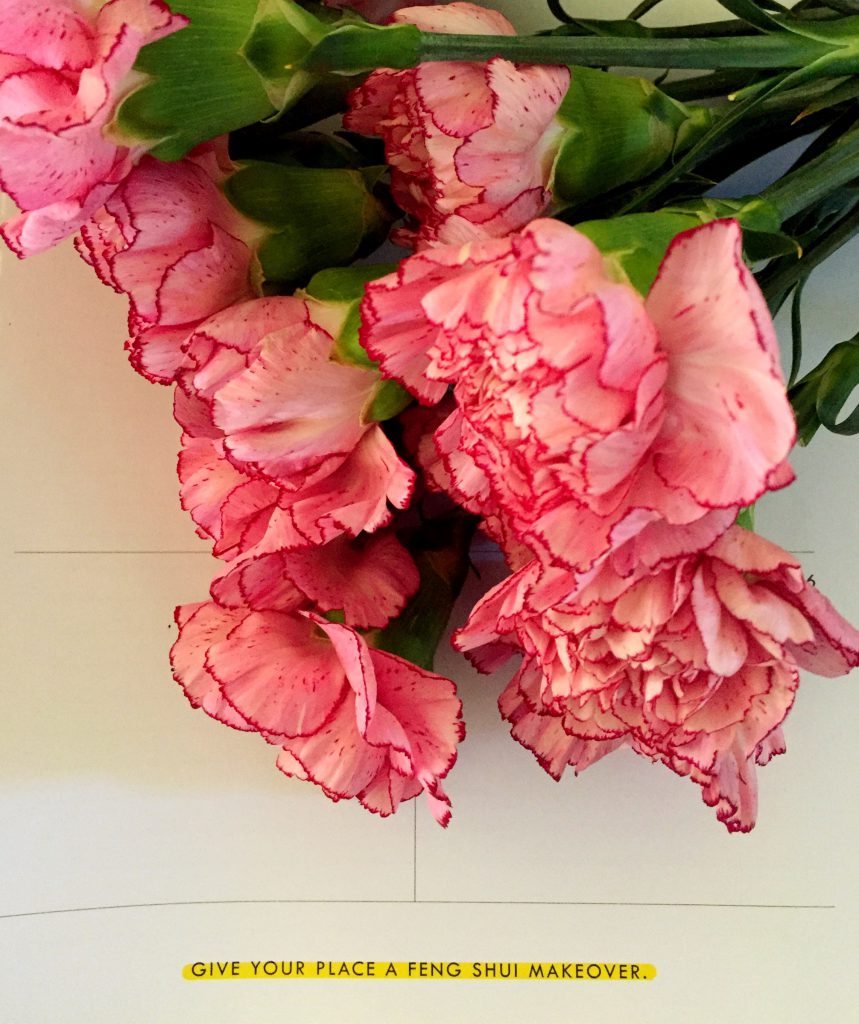 adopt a pet. living things are one of the best energy enhancers in the game, so find a "you-complete-me" fur baby, keep her good and healthy, and her good cheer will be a happiness fertilizer!
buy a disco ball. pleasepleaseplease do! but if you can't, hang a man-made crystal in a window so it can sparkle in the sun, scattering light like a disco ball. light changes energy in an instant, and it feels like a jolt of va-va to the voom!
try a new lipstick color. i am especially fond of bright red lipstick. with a kaleidoscope of options, there is a hue ready to rekindle your spark in a snap. so, strut a new shade of daring pink lippy or find another feverish color to brighten your smile. what i know for sure is once you take the spectrum plunge, your mood will marvel!
donate those clothes you'll never wear. if the clothes don't fit or you're hoping to fit into them again someday, give them away. you deserve to live in the glorious potency of right now.
perfect a family recipe. the kitchen is synonymous with wealth. why? the universe perceives us abundant when we feed and feast with others. and prosperity and luck find that arrangement mighty attractive. i can already hear the wolf whistles. even better? any good-spirited gathering kicks low vibe tail out of your space. bottom line: happy faces equal happy spaces.
add some plants to your décor. plants + flowers do all sorts of fancy talking in a home, improving the quality of our well-being and harnessing ultra-replenishing energy. and when they are well taken care of, plants are the gift that keeps on giving. so, grow a green thumb and go for it!
play the drums. sound shepherds perky energy into our space and keeps it from wandering away. so, whether you put the playlist on repeat; hum while busting through those ordinary chores; or play those bongos – just because you can – good energy will follow the beat in her feet right to you!
make your desk look extra cute. a desk is a representation of how well we support our own success. so, consider it a worthy transaction to find a desk that delights you. and then, my pretties, please remember this: even necessity deserves to feel beautiful. buy the blooms weekly, splurge on the fancy stapler, make that lamp a love light; and above all else, keep it clean.
plan that trip you've always wanted to take. once upon a time, travel wasn't in my forecast. i didn't have the budget. free time wasn't sitting around in wads, begging me to use it. and the opportunities weren't necessarily presenting themselves either. when i look back at pictures of our home now, i see subtle changes in how i anchored the possibility of travel into our environment. i loaded up the belief travel would happen through a careful selection of things — travel books, maps, globes, and canvassed art. eventually, the desire merged into my reality, and i traveled to Paris. Madrid. London. Copenhagen. Prague. Marrakech. and… those metaphors still do the heavy lifting, satisfying my wanderlust every year.
go through some old photos. we like to nurture our nostalgia, clinging to it like it's the only proof of our experiences. memories are what we carry with us, and it is only the memory that bestows meaning on our things. so, hold onto what you really love. but if the memorabilia is stored in the basement or a shoe box, consider why you're keeping it. and if that answer doesn't bring you joy, give yourself permission to make space for new memories.
make a list of what you're grateful for. we experience the world how we perceive it, so we cannot possibly create more good things in our lives without an awareness of our blessings. gratitude will always be a cornerstone of a prosperous life. and a daily gratitude chat helps sweep away the accumulation of mental clutter that might be blocking you from seeing all the good things right in front of you. make a list of all the people and things in your life that bring you joy. add to this list your talents and strengths. give thanks. every day. revere this list as your real wealth portfolio, and as life brings you more of anything swell, add to it!
xo