it's another fresh month, and i do LOVE a good zhuzh for the forecast, so have i got a list for us TO DO…
TIP ONE: buy a new pillow (or flip / rotate the mattress).
the closer we are to something, the bigger its influence. so, think of this tip as an efficient way to spruce up your room's chi and give your energy a lift, too. and while you're flipping or rotating the mattress, use it as a bagua and "plant" some intentions here!
TIP TWO: enjoy a meal by candlelight / read a book by the fireplace.
i LOVE incorporating the element Fire into a daily ritual. Fire favors expression, connection, and being "on." a few suggestions: and you don't need much to spark the energy of Fire – a little goes a long way!
adorn the table with candles – and then, dim the overhead lights and set the mood by lighting them. or, grab a stack of books to keep near the fireplace, and settle in – if even for a few minutes – to soak up a good story and some of Fire's dazzling chi!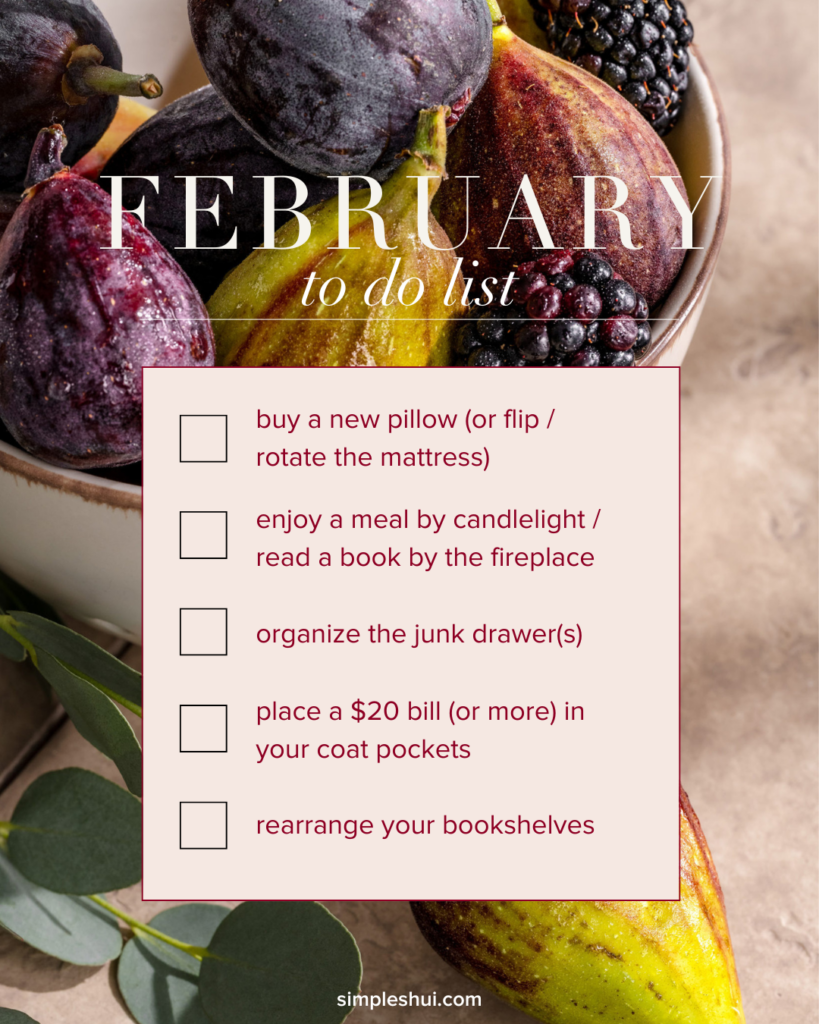 TIP THREE: organize the junk drawer(s).
all those random parcels (that are simply a part of life) need a home, so i am here for a designated spot to throw odds and ends into that'll (hopefully!) keep clutter from becoming a larger-than-life pest. however, you gotta resist the urge to overstuff it – and it needs a routine purge / re-org, too!
TIP FOUR: place a $20 bill (or more) in your coat pockets.
grab a few $20 bills, and place them in coat pockets right now. you will both plant a little wealth around the house, and forecast feelings of a *lucky find* next cold season – a vibe that is crazy contagious!
TIP FIVE: rearrange your bookshelves.
this spruced up the room they live in and ensures your home currently reflects YOU. remember, our homes influence the outcomes in our lives. so, a regular check-in of your books and shelves is no different than editing the clothes hanging in your closet. which is why the prompt for both works here: does this still "fit" me today? (and lucky you, this week's House Therapy episode is alllll about the bookshelves!) xo