want to encourage money to *walk into your life*? place 9 coins in a red envelope, and place it underneath your front door mat.
and…
to make the very most of this simple shui tip, remove your current doormat (if you have one) and sweep the area clean.
next, put a new doormat (or your current mat after it's been given a good shake) in front of the door.
and then place those coins in your red envelope under your front door mat and set the intention that money is walking into your life.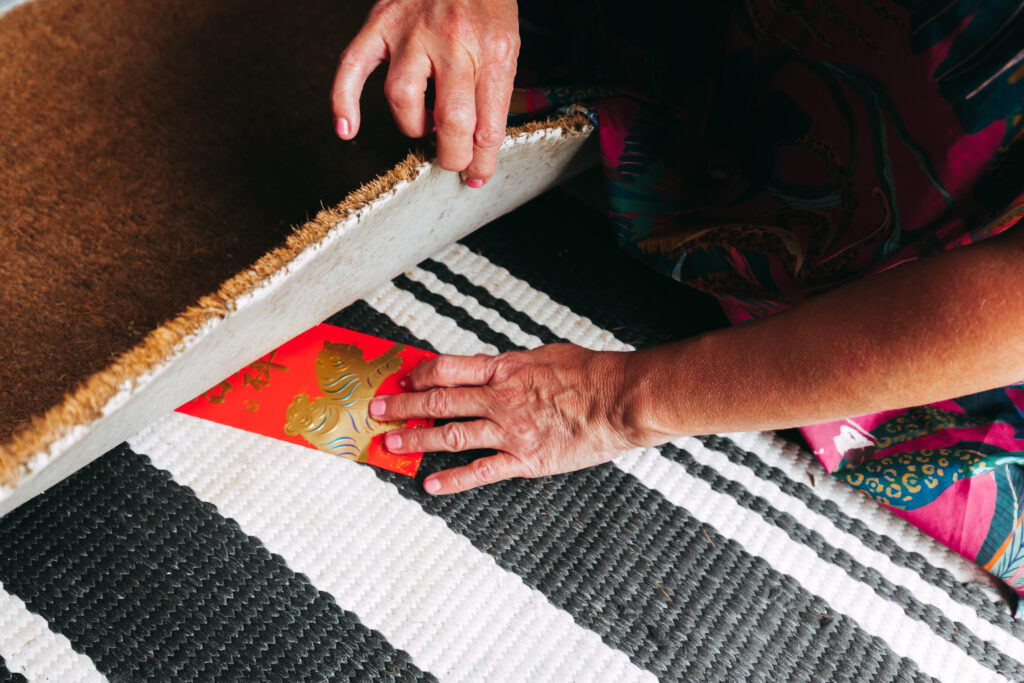 now, you've probably heard me recommend a different number of coins under the front door mat in previous posts – and like EVERYTHING in shui, that "prescription" usually comes down to the details of a client's expectations.
so, a quick peek into what a few of those numbers mean…
3 coins represent change, which is FAB when you're ready to trigger something new in your life. '3' speaks to the heaven, earth and (wo)man trinity. '3' also suggests wealth, luck and prosperity.
6 coins are lucky as '6' is a lucky Chinese number. '6' also signifies heavenly and work luck combined. if you're wanting to whistle a little work luck your way, work with '6.'
8 coins are highly auspicious, calling prosperity and abundance in. when drawn, '8' is shaped similarly to the infinity sign, which is how infinite abundance is implied here.
and 9 coins signify the unity between heaven and earth – which is regarded as very auspicious. '9' is the most powerful (single-digit) yang number, so it carries that kind of KA-POW with it. it is also often associated with manifestation and completion, so it hits all the high notes with a perfect pitch! xo
want even more tips? read through the comments on this post! xo